The Control Panel allows you to interact with every technical aspect of the Cloud Computing service, and is a tool designed to provide transparency of costs and simplicity of the operations, so that the Cloud Servers and their configuration can be managed very easily and intuitively.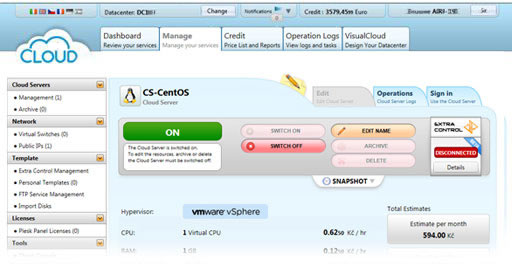 See how simple it is to create a Cloud Server
You can activate your structure on multiple Datacenters and choose the one you wish to manage by clicking the provided button.
Design your datacenter
Add all the Cloud Servers that you want with a click and through simple and fast operations, customise your machine by selecting the:
Number of Virtual CPU
RAM
Size and number of Hard Disks
Easy management of your VMs
At any time you can view the details of your Cloud Servers to:
Switch the machine on and off
Archive it or delete it
Change the assigned resources
Manage the Hard Disks
Manage Public IPs
Manage Virtual Switches
Control your spending
See the costs per hour and the estimate per month: you only pay for the resources that you actually use!