This innovative tool, available from the Control Panel of the Cloud Server, allows you to manage the Datacenter like an actual network diagram through a graphical display!
With VisualCloud you can check and change the resources and the relevant configurations directly from the interface, displaying the status of the Cloud Servers and the infrastructure.
With VisualCloud you can design your own virtual infrastructure!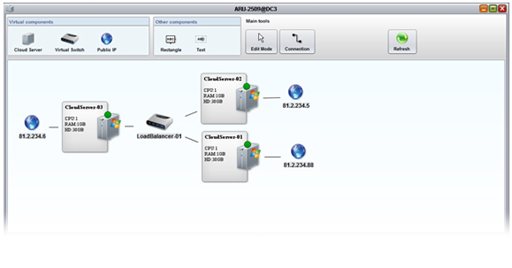 With VisualCloud managing your Datacenter is simple and immediate
Drag&Drop
Design the infrastructure and manage the Cloud Servers through simple drag&drop.
All the performed actions will be displayed in the graphic preview and will be applied immediately to the real structure.
Design your Datacenter
Add all the Cloud Servers that you want and through simple and fast operations you can customise your machine by selecting:
Hypervisor
Operative system
Number of Virtual CPU
RAM
Size and number of Hard Disks
The DARWIN Cloud Computing service is simple and flexible
At any time you can view the details of your Cloud Servers to:
Switch the machine on and off
Archive it or delete it
Change the assigned resources
Manage the Hard Disks
Manage Public IPs
Manage Virtual Switches