October, 2017. ( valid up to september 2018 )
Last update for single Email with your domain: ( i.e. yourname@yourdomain.com ) on our existing Email Servers.
All email with domain account have, WebControl Panel, WebMail access, POP3, IMAP4, SMTP server.
Antivirus and Antispam software 24h. Internal Search engine to find every single email or groups of emails.
And hundreds of customizable features, like automatic forwarders, autoreply, unlimited alias, white-list, black-list, multiple signatures, password manager.
Email with 500 Mb of Space > 0,33 € / month
Email with 1 Gb of Space > 0,67 € / month
Email with 2 Gb of Space > 0,92 € / month
Email with 5 Gb of Space > 1,63 € / month
Email with 10 Gb of Space > 3,34 € / month
Email with 50 Gb of Space > 15,00 € / month
Email with 150 Gb of Space > 19,00 € / month
more than 150 Gb of Space please contact us, actually we can give up to 8 TeraByte per single e-mail account.
Security rules.
Maximum dimension per single email sent / received: 50Mb
This limitation is due to Spam protection, against possible overquota account.
If you want to send file greater than 50Mb we suggest to use free services like WeTransfer.com
Blocked by Antivirus / Antispam servers file type:[ you will not receive or send email with this file type attachment – but you will receive a notification]
*.BAT > Batch processing file
*.CMD > Command file Windows NT
*.COM > Command
*.CPL > Windows control panel extension
*.CSH > CSH script
*.EXE > Executable file
*.INF > Setup file
*.LNK > Windows link file
*.MSI > Windows installer file
*.MSP > Windows installer patch
*.PIF > Program Information file
*.REG > Registration key
*.SCF > Windows Explorer command
*.SCR > Windows screen saver
Powerful additionals E-mail related services.
Moving Emails from/to different Mail servers.
If you like to change your Email provider with us, we can also move your existing email with a pro custom software procedure we have realized in several years.
We take all the emails and all folders and all the others account features in your existing email account and copy exactly to our e-mail servers without losing even one email message. There are no limits in the number of emails, the size of your account and the attachments.
Please Contact Us for Moving Emails.
Email back-up and archiving for Online emails and Real Time
One of the first to offer this wonderful service in Europe. No email is ever been lost, even if they are deleted by mistake.
They can be accessed through the Web browser or the Client's mail (e.g. Microsoft Outlook, Mozilla Thunderbird, All Mobile Devices such as Telephones and Tablets) or the Clients' mail is dedicated only for 24h/ 365 days back-up.
Updated price list:
For single Email/Account for BACK UP service in real time
0.39 € cents / day
Price for a single user for backup management
0.03 € cents / day
Email backup and Archiving
Please visit also our Email Archiving service; it's very useful for professionals and companies working hard with emails; Total Protection against email Data Loss.
AntiSpam + Premium version Anti-virus through SMTP Mail Gateway
Keep your email (email) clean. Detects and cleans 98% of Spam and Viruses through email.
You can apply this service to any email server; not only on our own host.
2.50 € / month for a single email
For many email accounts please contact us for a customized quote. Big discounts are offered if you have many accounts to protect.
A brief outline of the e-mail.
Email or e-mail is the oldest InterNet service; it dates back to the mid-1970s, although the exact date of the first e-mail message is controversial.
The concept behind the email is very simple: you connect to a computer system, write a text message and send it to a user on another computer system (server)
The message is then transmitted through the maze of interconnected computer systems until it is delivered to its intended destination (the recipient's email server).
Although the concept may have remained the same over the years, the email products that are currently used have little or no similarities with the first email systems of the 1970s and 1980s.
The email lets you send text messages, but also allows you to attach other types of files and encoded messages so that only the intended recipient can read them.
If you are interested in professional email services, which are always active and working, as well as always free of Virus and Spam, we can register domains and activate one or countless email boxes for you.
Presently, we can also remove/transfer your company mail from other suppliers/ providers on our email servers.
Internet domain registration
We are the Official Registrar for .IT domains and all other extended domains (.com /.net / .org / etc etc.)
This means that we provide .IT domains (and all others) directly, without passing through other providers.
1.50 €/month (cost for a registered .IT domain /. com /. net /. org etc.)
Our Code as the Official REGISTRAR
DARWIN-REG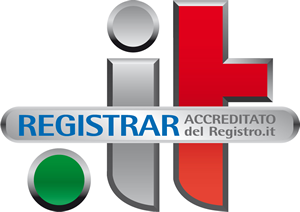 One of the first in Italy
We have been registering domains since 1995